2022 Term 1 & 2 KEC Korean Class Time Table & Overview
교육원관리자
0 1986
2022.01.17 08:41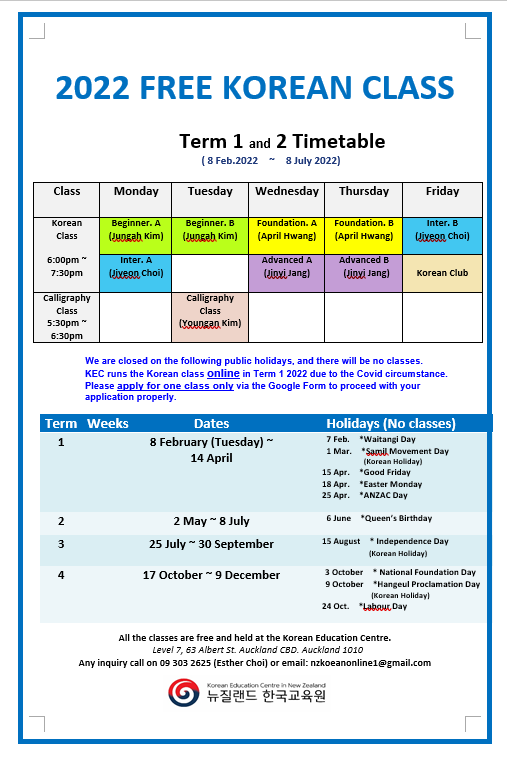 2022 Term 1 & 2 KEC Korean Class Time Table & Overview
Hello,
We appreciate your interest in the Korean language and culture.
Please refer to the Timetable and Overview of each level provided before applying for the Korean class.
The Korean class will be online with Zoom in term 1,2022 due to the uncertainty of Covid circumstances.
* However, Calligraphy class will be onsite, which starts on 8 Feb 2022 (Tuesday, 5:30 pm.~6:30 pm.)
* Korean Club is open only for the students above advanced level or who graduated from the KEC
advanced course. You can inquire about the Korean Club via email below. (Friday, 6:00 pm.~8:00pm.)
The google application form link will be posted on 20 Jan on the KEC website (1:00 pm.).
The application will be open on 20 Jan, which will be closed on 31 Jan 2022.
You will get the confirmation email around the first week of February 2022.
Please be aware of the guidelines of the attendance requirement for the next term registration.
You need to meet the 70%of Attendance in term 1 to apply for the next term class.
If you have any inquiries, please email at
nzkoreanonline1@gmail.com
(Esther Choi)
[이 게시물은 한국교육원님에 의해 2022-01-27 11:26:21 공지사항에서 이동 됨]